Since their last directorial collaboration with comedy sequel 'Dumb & Dumber To' in 2014, sibling filmmakers Peter and Bobby Farrelly have charted distinctly different paths. Peter has looked for a different level of recognition, making the Oscar-winning 'Green Book' and the less well-received 'The Greatest Beer Run Ever'.
Bobby Farrelly, on the other hand, has mostly spent the time producing other people's work and shooting shorts. But he's back with a new movie that you could picture studio executives considering award-worthy given its blend of heartwarming comedy and underdog athletes –– and Woody Harrelson, who starred for him in 'Kingpin'.
'Champions' still sticks closer to the previous Farrelly brothers brand of comedy, though it largely tones down the levels of slapstick and gross-out humor in favor of spotlighting the abilities of the players and letting Harrelson play a grump on screen whose heart might just be melted by his new charges.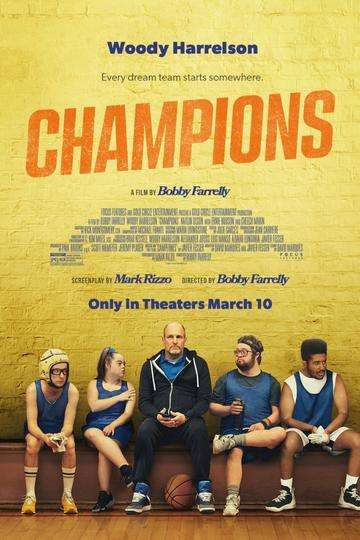 "Every dream team starts somewhere."
Showtimes & Tickets
Woody Harrelson stars in the hilarious and heartwarming story of a former minor-league basketball coach who, after a series of missteps, is ordered by the court… Read the Plot
What's the story of 'Champions'?
Though it sounds like the sort of inspirational true story that Hollywood loves to bring to screens, 'Champions' is actually based on the acclaimed Spanish film 'Campeones' –– which became Spain's biggest box office hit of the year when it was released in 2018, ultimately winning Best Film at the Spanish Film Academy's Goya Awards.
Harrelson plays Marcus, a minor-league basketball coach who disagrees with his boss (Ernie Hudson) and ends up getting pushy (literally). Kicked off the team, Marcus drowns his sorrows and, driving home from a bar, rear-ends a stopped police car.
Which means he goes from the basketball court to the law courts, handed a public service sentence that involves managing the Friends, a team of players with intellectual disabilities. Marcus is introduced to the likes of Johnny (Kevin Iannucci), Darius (Joshua Felder), Cody (Ashton Gunning), Craig (Matthew Von Der Ahe), Blair (Tom Sinclair) and Benny (James Day Keith). And soon after, they're joined by Cosentino (Madison Tevlin), a superstar player (and real motivator) who is fresh off the injury list and ready to prove herself.
Around the same time, Marcus meets Alex (Kaitlin Olson) on Tinder and while their spark is somewhat less than love at first site, he soon discovers he'll be spending more time with her than he thought, as she's Johnny's sister and main caretaker.
Initially doubtful that he should even bother with team, he soon realizes that they can go further than they or he imagined –– which includes all the way to the Special Olympics. And that could also help boost his professional chances.
Related Article: Woody Harrelson and Kaitlin Olson Talk Basketball Comedy 'Champions'
What works about 'Champions'?
'Champions' is a stealthily entertaining and –– yes, at times uplifting –– comedy that goes some way to subverting expectations about this type of movie. Yes, Harrelson's character is exactly the sort of grumpy ass who appears to lack people skills. But he at least is allowed a few shades of gray. His own issues are clearly outlined and his relationship with Olson's Alex isn't exactly cookie cutter. It won't truly surprise you, but at least it goes on something of a storytelling journey.
There are also largely organic reasons for Alex not wanting Johnny to leave the home they share with their mother, and her own life is stunted for different reasons other than simple loyalty to her sibling. And Marcus' drink driving comes into play for one of the Friends, who initially refuses to have anything to do with him for reasons that are both darker than you expect and more interesting.
The Friends, meanwhile, are characters in their own right,  and writer Mark Rizzo goes some way to factoring them into the storyline so that everyone has some agency. Plus given that several of those playing the Friends haven't acted before in their lives, they're all charismatic and entertaining in their own right.
Harrelson, Olsen and the likes of Cheech Marin (who plays Julio, who runs the non-profit recreation center where the Friends train) know exactly what they're doing in their roles and keep the laughs coming when needed, switching tracks to heartwarming when called upon.
What doesn't work about 'Champions'?
Even if you've not seen the trailer for the movie, you'll pretty much be able to guess every beat coming down the line here: Marcus, initially resistant to his new charges, soon learns to appreciate them for more than just the challenges they face in life and on the court.
And for all the good work the script and cast do in making the characters come alive as more than simply a means to an end, only one or two of the Friends really stands out –– Johnny, for example, is shown to have a full life and it's mostly thanks to Tevlin that Cosentino overcomes her own definition –– the rest largely sticking to one or two stereotypical behaviors.
The movie also won't challenge anyone looking for stylish, inventive filmmaking – this is strictly down the line shooting, nothing more than competent. Though if you're coming to a Farrelly comedy expecting glorious visions, you were looking in the wrong place.
And even with a full team of characters to explore (which it doesn't fully regardless), this feels like it outstays its welcome, stretching the story a shade over two hours. The saccharine levels also ramp up as the team starts to bond with Marcus and he finds himself won over by their efforts.
Overall, 'Champions' won't challenge any expectations, but it does at least offer enough entertainment to keep it from feeling like a waste of time at the cinema.
'Champions' receives 6 out of 10 stars.
Other Movies Similar to 'Champions:'
Buy Tickets: 'Champions' Movie Showtimes
'Champions' is produced by Gold Circle Films and Focus Features, and scheduled for release on March 10th.